Dr. Vikas Dhawan
Founder & Chiropractor, DC

Qualifications
Doctor of Chiropractic (2002).
Founder, Apollo Physical Therapy Centres (2003)
Continuing Education & Affiliations:
Brain Injury Canada Board Member (2013 – Present)
Concussion Management (2015)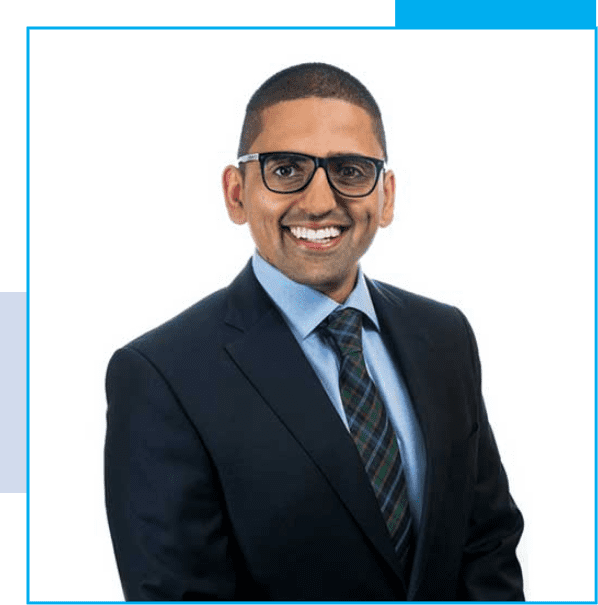 What I do around here:
I treat the body as a whole by addressing the root cause of people's problems and addressing them through chiropractic manipulation, soft tissue work, and most importantly connecting with my patients and being fully present. I'm a health coach to my patients and a mentor to my team, with the goal of enabling them to live more fulfilling lives by breaking down their barriers to change and living life with positivity and purpose.
I became a Chiropractor because:
As an active, athletic teenager, I suffered from low back discomfort that was always diagnosed as the 'norm' for sports-related pain. It wasn't until 1996 when I began to see a Chiropractor that it was discovered that one of the bones in my lower back hadn't formed properly and was the root of my problems. With treatment, the discomfort began to ease and my stamina & performance in sports began to increase.
I had always been interested in science and the human body, with the goal of pursuing a medical career after completing my Kinesiology undergraduate degree. After my introduction to Chiropractic, however, my focus changed to following a more natural path to health care and healing. I have since gained an even greater respect for the phenomenal healing powers of the human body enabling us to get the most out of life.
My personal philosophy is:
Through my own personal experiences, as well as those of my patients, I have come to firmly believe in a holistic healing approach and a wellness-based practice. True health involves optimal functioning on all levels: physical, emotional, mental and spiritual. My motto is: try new things, test your limits, and push yourself to always give your best to people. Be the best you can be. Be healthy and keep it that way!
What I do for fun:
I enjoy being active, playing any and all sports, swimming, yoga, running around and playing with my children, dancing, and listening to music (R&B and Reggae).

If you are experiencing Burnout, book an appointment with Apollo Physical Therapy. Our team of Ottawa physiotherapists, chiropractors, acupuncturists and registered massage therapists can help. We have a convenient central location to serve you with ample parking and wheelchair access.